Written by admin
Wednesday, 30 July 2014 14:06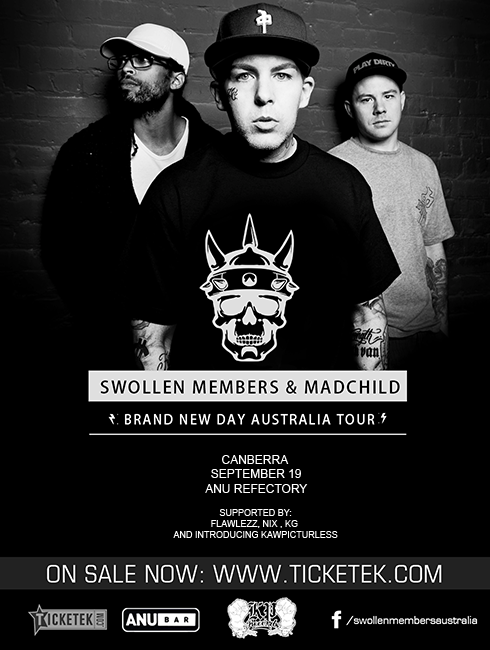 KP Records presents Award winning Canadian hip-hop outfit Swollen Members live in Canberra this September as part of their upcoming headline tour of Australia in support of their recently released new album "Brand New Day". 
Supported in the Capital by local artists Troy Flawlezz (KP), Nix, KG and introducing Kawpicturless (KP).

Formed in 1992 the golden era of hip-hop Swollen Members released countless successful albums and collaborated with the likes of Jurassic 5, Nelly Furtardo, Everlast and Dilated Peoples.
In 1996 Swollen Members where initiated into the Rock Steady Crew.
Swollen Members is one of only three rap groups affiliated with Rock Steady, others include Dilated peoples and The Arsonists.

The mid 2000's saw Swollen Members song 'Heavy' feature in SSX3, WWE Day of reckoning & WWE Smackdown! Vs RAW.
Several more albums followed with collaborations with Tech N9ne, Talib Kweli & La Coka Nostra.

Flash forward to 2014 where social media dominates and many rap groups from the Golden Era have struggled to maintain popularity.
Swollen Members have rejuvenated a stellar career amassing over 50million plays worldwide on youtube and hundreds of thousands of facebook likes.

On top of the groups success Madchild has taken his solo career to new heights with countless viral hit singles, several impressive album releases and an impressive outing in the KOTD rap battle league which saw him take a memorable win.
No stranger to touring Swollen Members have taken to the road for over 50 dates across the USA and have now announce a much anticipated headline tour of Australia.

With the release of their new album "Brand New Day", Swollen Members have taken back control and re-launched their label Battleaxe Records.
The label was one of the hip-hop's premiere independent record labels, now re-launched by artists that have a desire to return hip-hop culture to its rawest form.
The reason why countless fans have the Battleaxe skull logo emblazoned on their body is that it represents a common bond for like-minded individuals who live their life with a passion for art, music, and culture.
They are all part of a growing movement that is taking over.

Fans from the Golden Era, dedicated fans enthusiastically titled warriors and fans from the new generation do not miss what promises to be the live hip-hop tour of the year!
Tickets on sale NOW CLICK HERE

Canberra Facebook Event page CLICK HERE
Visit www.facebook.com/swollenmembersaustralia for all national tour information.
Last Updated on Wednesday, 06 August 2014 01:54
Written by admin
Thursday, 03 July 2014 06:53


NEVER GONNA STOP (Promo music video and single)
Written and performed by - KAWPicturless.
Produced and mixed by - Lesley Luna.
Mastered by - Tarekith for Inner Portal Studio.
Video filmed and edited by - Avene.
Copyright KP Records 2014.

Follow KAWPicturless on Facebook CLICK HERE
Follow KP Records on Facebook CLICK HERE
Check out the official KAWPicturless bio CLICK HERE





Download and stream NEVER GONNA STOP below:


Last Updated on Thursday, 03 July 2014 22:38
Written by admin
Wednesday, 02 July 2014 03:32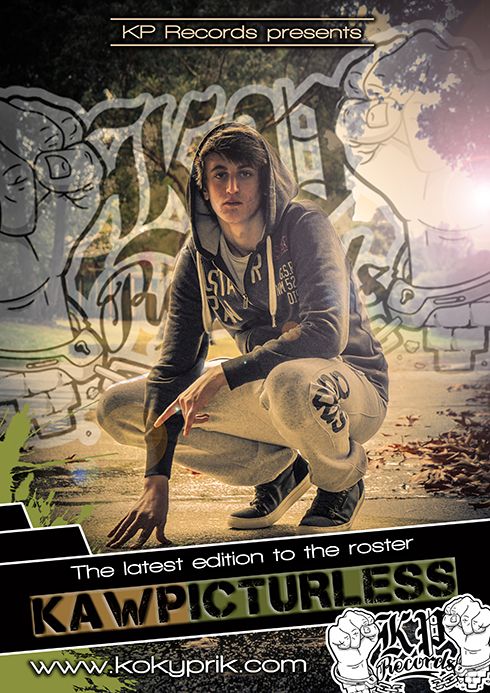 KP Records are proud to present the latest edition to the roster.
Give a warm welcome to one of the finest young MC's coming up through the Canberra ranks.
KAWPicturless.

The first of the next generation of KP artist.
Young, hungry and ready to build on the foundation we have laid down since January 2007.

Check back tomorrow for the first official KP Records KAWPicturless release - The track and music video "Never Gonna Stop"
Produced by our own Lesley Luna.

In the meantime here is a bit of an answer to the question - Who is KAWPicturless?????

Who is KAW Pictureless?

Now barely 18, mic in hand, KAW began life as an "any man" with an average run of the mill childhood and dreams of perhaps one day becoming a professional athlete or singer.

With adolescence came the more adult temptations in life and KAW gravitated toward weed after discovering it at age 13.
He would go on to use the drug as an escape and self prescribed medication for various underlying mental health issues.

It was these lifestyle choices and forks in the road that shaped his teen years.
KAW dropped out of school in year 9, things at home fell apart and before long he was living in a refuge.
By the time he celebrated his 18th birthday he was calling his best mates shed home. (Shouts from KAW too Jacob Clyde for the support)

Yes the journey of the past five years has been a hard road for KAW but not every step he's taken has been so hard.

At age 14, a year after he discovered weed he discovered Hip Hop and those around him discovered just how easily the written and freestyle rhymes came to the kid.

By the age of 16 his mates were urging KAW to take his rhymes seriously and HE DID.
What he lacked in resources he made up for with hunger and drive relentlessly honing his craft writing and freestyling tracks right out of the shed.

Broke and without access to studio gear KAW turned to his iphone and the popular website soundcloud to share his voice but after 8 or 9 songs and a few hundred plays he realised that building a career in music would take something more than just sheer will.
With that he took a shot in the dark and contacted Big Dave founder of a label he'd heard much about - KP Records.
With the message he attached a 2 minute video he recorded spitting bars live right there over a beat.

Some things are meant to be and it just so happened that the guys at KP had been closely watching the Canberra scene, looking for their next signing.
Several names kept popping up but one that they were yet to hear was KAW Pictureless.

That was until they received a little video message through Facebook and weeks later KAW was in the studio and on location recording his first official KP track and music video "Never Gonna Stop This".

From his garage in Canberra to the studio and to the stage KAW Pictureless is the first of the new generation of KP artists.
A young hungry breed ready to build on the legacy laid down since 2007.

So the question now is not Who is KAW Pictureless but what is he going to do now he's found a home with KP?

In the near future expect free downloads, music videos, live sets and interstate battles.
In the long term expect a mixtape, albums and the rise of a kid that has decided its music or nothing.
Last Updated on Wednesday, 02 July 2014 06:58
<<

Start

<

Prev

1

2 3 4 5 6 7 8 9 10 Next > End >>